BigCityArt
Steven Skinner Watercolors - 1989 to 2008
I don't know what art is, but being a painter is something you have to prove. ~ Wayne Thiebaud

Architectural Series →
My focus as a student at the School of the Art Institute of Chicago was in printmaking and oil painting. After graduating from SAIC, I worked in oil and encaustic while worked on a series of collages using rice paper as the ground. I became disatisfied with oil painting thinking it too easy and began experimenting with watercolors. The inspiration for this series from 1989 to 1999 were the viaducts and bridges in the Bucktown neighborhood were I lived.
---

Conservatory Series →
While teaching watercolor classes at Columbia College Chicago, I would take students to the Lincoln Park Conservatory and give instruction on painting various tropical plants there. In my own work I had limited experience painting flora and was excited to paint what I found there including many architectural details found within the conservatory. I also visited the Garfield Park Conservatory for subject matter in this series of watercolors.
---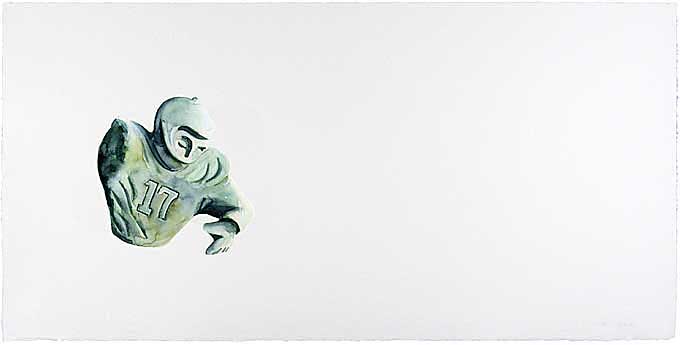 The Little Things →
The watercolor series, "The Little Things" began in 2003 as a result of looking for new ideas and themes to paint. Painting a small number of self portraits, I noticed an old well used hardball sitting on a studio window sill and so painted it. I was pleased with the result and next found a beat up wind-up toy in the alley and painted that. Following was a series of small objects painted on white paper. I have always prefered a horizontal picture frame rather than a standard rectangle, but I also decided to use the clean unpainted paper as the background to simplify and focus the images.
---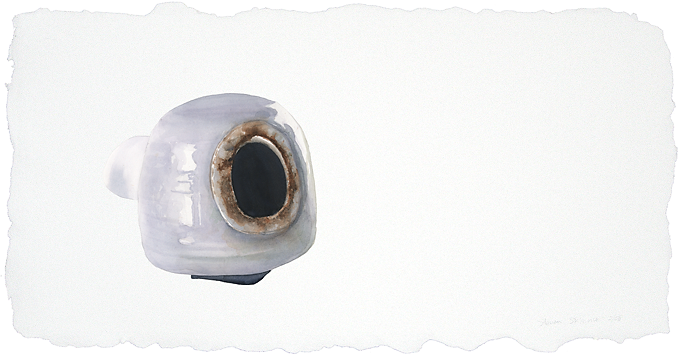 Porcelain Things →
A small series of porcelain objects rendered in watercolor while I was transitioning from Watercolor to pottery and experimenting with objects made with porcelain.
---